How To Buy Latest Pakistani Dresses Online
Eid is just around the corner and it's time for Eid shopping. So modern Pakistani dresses online collections 2019 for girls and women. Will give you a general idea of the best Pakistani and latest women Eid dress collections 2019. When it comes to shopping the finest dress for any event. It's always a matter for girls because in this era of fashion.
Every dress designer or clothing brand has introduced their Eid collection. With some unique element brands like origins, Maria b is giving the main concern to traditional clothing designs. While khaadi is focusing on fine stitching with plainness and elegance. Alkaram and Gul Ahmed are one of those brands that offer wide range of varieties from low to very high prices without compromising fabric quality.
Below I will rank top Pakistani dress designers or brands based on my personal view. It is not to say that these brands are the best ones. Instead, this ranking is based on public fame. The economy of purchasing, style, and unique cuts. I hope you will benefit from this and this will help you to get the finest dress of your choice. Keep sizzling this Eid with lots of blessings.
Agha Noor
Agha Noor a brand name that is very well known for its delicate embellished patterns and economical prices. That no other brand is offering in Pakistan. Their semi-official dresses range consists of pastel colors to bright colored dresses.
With stylish embroidery that gives timeless grace and style. With a modern twist, if you want a stylish look this can be a good style option. Agha Noor has its main stores in Lahore, Karachi, and Islamabad yet not founded an online store.
Maria B
Mari B now needs no opening when it comes to casual, eveningwear or bridal dress or even kids wear collections in Pakistan. She offers a wide range of variety from customary to western cuts that make her brand unique from others.
The price range varies from dress to dress, in this party wear collection you can find kurta with trousers, embellished tunics, heavily embroidered official dresses that you can even wear on a wedding as an option is all yours depending on what you want to wear.
Khaadi
Indulge in the Eid celebrations with wonderful khaadi collection like pret, khaas, kid's dresses, and khaadi men collection. Khaadi provides a complete range of women, kids and men clothing.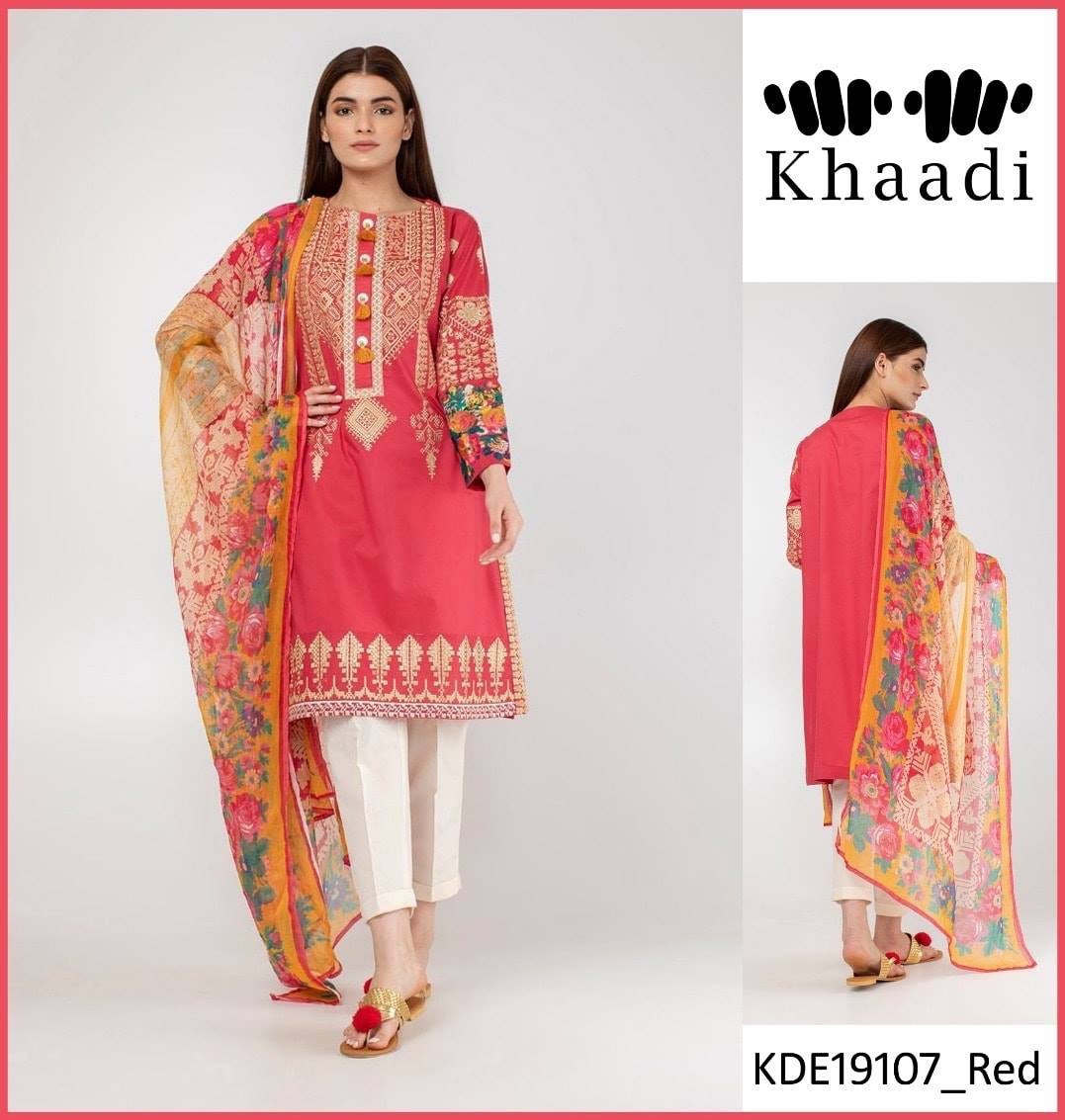 Again price ranges normally to very high depending on informal to formal from Khaadi fancy kurtas from their pret and khaas collection for Eid could be the finest choice this Eid or any semi-formal or formal event.
Nishat
Nishat Linen a well-known name for ready to wear women kurta and quality unstitched fabric. NL pret Eid collection 2019 offers a wide variety of casual kurtas for women. With little stitching motifs and plain kurtas in almost every color. NL pret is the greatest option if you want an easy style. That summer weather demands as the weather is very hot in Pakistan.
Here come the modern Pakistani party wear frocks 2019 collection for girls. This is all about the excellent elegant designer party dresses to make it easy for you to select the most suitable evening dress.
Naturally, it is difficult for girls to choose an ideal dress for any party, special event, Eid, engagement or wedding. These season trends are the same as a previous year with little changes, long floor-length frocks, Anarkali frocks, short shirts with palazzos. Silk, chiffon, georgette. Mostly worn to create party wear dresses.
Pakistani Party Wear Frocks
You can choose any color of party wear frock depending on your wish. Pakistani frocks collection 2019 is unique in design and all above charming in colors. If you are daring enough, you can experiment with different colors and get a classic look you go for pastel.
Nowadays, due to the fast expansion of the fashion industry in Pakistan, different designers are creating stylish wedding and party wear collections. Designers have changed the fashion trends in Pakistan, most of the women and girls are choosing for designer dresses to save time.
Pakistani dress designers like Maria B and Zainab Chottani party wear frocks collection 2019 for women has to approach into the market. Now you do not need to search for your party wear dresses anywhere. We are going to show you a larger collection of party wear frocks and dresses collection for women. This series will be full of the latest formal party wear frocks for girls.
The recent entrance of lehenga frock style, Anarkali frock, full-length frock designs, knee-length frock, and sleeveless long frock is on the floor. Get ready to have a gaze on the best collection of party wear frocks found anywhere. We will demonstrate our collection in detail. Do not miss the Pakistani designer's bridal dresses ever-greatest collection that is present to you. Just put on your seat belt and get ready to have a gaze on the designer's splendid compilation.
49