Types of Skip Bins for Commercial Use
Commercial skip bins are used for the long term. They are for more significant construction or demolition projects, moving office, waste removal for big business sites, and extensive commercial or renovations. Commercial skip bins hold the size of 8 to 30 cubic meters. Maxi skip containers measure around 8 to 16 cubic meters, while the other bigger commercial skips, which are also known as roll-on and roll-off skips, measure around 20 to 30 cubic meters.
Construction sites that usually results in producing a lot of waste material can correctly utilize the benefit of commercial skip bins. These skip bins are not just for big long-term projects. Companies and Industries that continually produce a massive amount of industrial waste like production plants, restaurants, and hospitals are the perfect examples of where the commercial skip bins are necessary.
Skip bins help you to carry and take out the waste material without any extra effort on your part. Due to skip bins, you can operate your business without any delay caused by the collection of waste. You can take full benefit of skip bins to get rid of waste trash quickly and immediately.
Types of skip bins
There are mainly three types of skip bins which come under the category of commercial use –
Marrell Skip Bin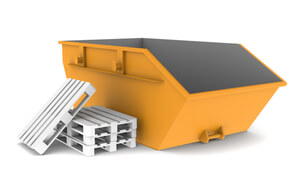 It is the most widely used skip bin in the case of both domestic as well as commercial waste. The bin size varies from 2 cubic meters to 17 cubic meters. Looking into the shape of the Marrell, it has higher sides and is shorter in length than a hook lift skip bin. It generally does not consume a lot of room space. Marrell is delivered in a truck to the buyer, and it requires a clearance of no less than three cubic meters, and there should not be any low overhanging branches or wires.
Most of the Marrell skip bins come with a wheelbarrow access door for easy loading with a size of 4 cubic meters and above. Then the chains are attached to the hydraulic arms, and a Marrell is lifted up and then lowered at the back of the truck.
They are usually defined by the method of loading the waste bin on and off the truck. A Hydraulic hook is used to grab the skip on the back of the car, and then it rolls it off at the end of the vehicle.
Mini trucks are required to carry these types of bins. The shape of the hook-lift is rectangular and has sizeable rear opening doors. The size of the hook-lift varies from 4 cubic meters to 30 cubic meters.
This type of skip bin is usually hired for commercial and industrial waste disposal, but it can preferably be used for massive domestic trash disposal. You can hire a hook lift to skip bin where a large amount of rubbish/waste is needed to be removed. Sometimes it becomes challenging to hook up the container to truck due to the overweight of the bin.
Mobile Skip Bin
Mobile skips are perfect for those locations where the bins are hard to place like, inside garages, office blocks, under carports, underground parking, etc. If you need to put a skip bin on the council's property, then you need to obtain a permit from local council members, which may be time-consuming and sometimes costly.
These bins come with a lockable lid, which prevents others from placing their waste in it. Mobile skip bins are very conventional skip bins to hire, as they can be moved directly to the rubbish, rather than advancing the trash to the skip.
You can carry general waste, light green waste, and building waste materials in a mobile skip bin. This bin does not allow massive trash such as concrete, bricks, etc.
The Mobile skip bins usually come in only two sizes, which vary from 3 cubic meters to 4 cubic meters. For safe transportation, they all come with a specific weight limit. Some states also offer more sizes for mobile skip bins.
Conclusion
Skip bins are the most perfect and the best solution for disposing of a massive amount of commercial waste. They decrease a lot of human effort. It saves your money as well as time, all of the waste is disposed of in an environment-friendly manner, and you can dispose of all your trash in a single go. With all these benefits of skip bins, it is a very convenient solution and makes it perfect in all ways.
However, you must compare several skip bins services with pricing to find the best one. The skip bin prices Albion Park are reasonable and the services are best in the area. Comparing the services and prices will help you find the right skip bin service for your business.
32